Main content starts here, tab to start navigating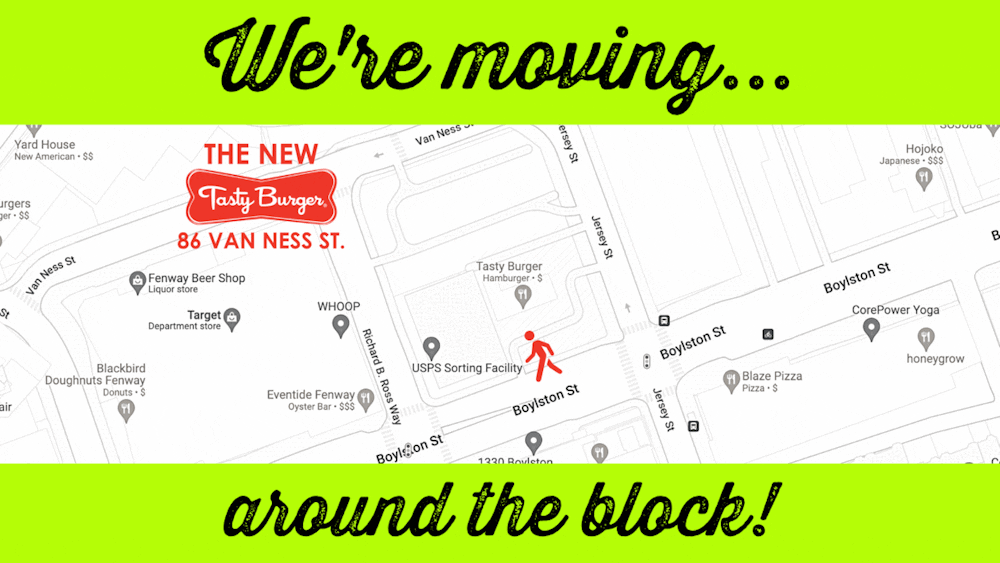 After 12 years in a converted gas station, Tasty Burger Fenway is moving around the block in early 2023.
We know you have questions, so here are some answers:
Where are you moving?
Our new home will be at 86 Van Ness Street, on the corner of Richard B. Ross Way. It's a 2-minute walk to our new location, which you can see from the back garage door by the pool table.
When are you moving?
We move from our old location to our new location in early 2023.
What will the new location be like?
It's going to feel just like our original location, but brighter, shinier and newer. Everything you love will stay the same, though - our menu, our staff and our local neighborhood burger joint vibe.
Why are you moving?
We were lucky enough to last 12 years in our old renovated gas station, but the neighborhood is growing and we're growing with it. Our brand-new space is designed just for us and our customers are going to love it.
Will there be parking?
There will be street parking, dedicated 5-minute spots for pickups on Ross Way, and validated parking in the garage next door.